Site Center
from here you can go anywhere, just click a pic...

Order list
View your order status here
Search this site
Acquire a design displayed here or have your own text or logo designed for you, visit our ordering page !
You'll find my links behind this logo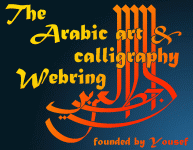 Contact us to join
You can also talk to me when I'm online
If you like my stuff, check these out for more Arabic and Islamic art !
Yousef uses


view it

Young artist and friend Kara's page
Keep a look out for my page here.
This Art Network site owned by Yousef.
[ Previous 5 Sites | Previous | Next | Next 5 Sites | Random Site | List Sites ]