from here you can go anywhere, just click a pic...
For the English Info-page, any modern browser will do, but for the Arabic, you need Netscape 4+ and Sindbad Arabic support for Netscape. A really cool and free!! piece of software by Sakhr software
Check out the store

Search this site
Acquire a design displayed here or have your own text or logo designed for you, visit our ordering page !
You'll find some links behind this logo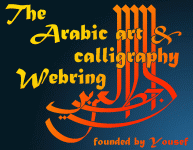 Contact us to join Contact me through one of these...
Roll your mouse over the pictures and buttons to have some fun
To the galleries:
You can also talk to me when I'm online
Make sure you enter your e-mail address correctly when I'm not online
If you like my stuff, check these out for more Arabic and Islamic art !
Guess what,
I'm in the...
And also on
this great site:
Yousef uses


view it
Yousef participates in ...


This page gets updated and expanded at least twice a month,
so keep an eye on it.
| | | | |
| --- | --- | --- | --- |
| Yousef is a member of . . . | | | |
Keep a look out for my page here.
This Art Network site owned by Yousef.
[ Previous 5 Sites | Previous | Next | Next 5 Sites | Random Site | List Sites ]